What Others Are Saying About Our Labradors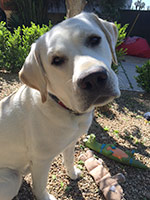 Dr. D - Just a quick update on Bullet. He's amazing! 75.4 lbs of pure love. See attached photo. That face! I seriously cannot get enough of this guy. I'm tempted every single day to play hookie from work and just stay home with him. Thanks again for allowing me into the Bainbridge Labs pack and changing my life in the process. I'm convinced you breed the dog equivalent of Greek gods. They are simply superior in every way. I'm already thinking a couple years down the line when I can get him a brother. You should also know I've been stopped on three different occasions, while walking Bullet in Beverly Hills, by people who come running up to me and go, "I'm sorry, I know this is weird, but is your dog from Kentucky??" NO JOKE. You are a legend. One woman said she has a dog from you and her dog walks with a pack that includes at least one or two more Labs of Bainbridge. Thanks for my amazing guy! Hope all is well with you. - D
---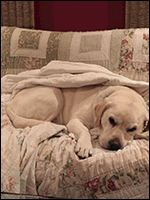 I remember one of our last conversations, before Cooper made the plane ride from Lexington to Denver, you said that if I wanted to pass on Cooper for a female, I could. At the time, you never elaborated on why you felt this way. I can only assume that, during his first eight weeks he behaved in a way that lead you to believe that he would be too much for me to handle. Well, he was a bit of a stinker, at first. He was such an ankle biter that I had to drag a garden hose behind me when I was outside so that he would attack the hose instead of my ankles. Now, at four years old, he still has an affinity for garden hoses. I have taken Cooper everywhere from errands to events. He has been a busy guy with playdates at home, with border collie pals, Wilson and Chloe, to playdates at the park, with Gunny (German Shorthair) and Mia (a herding mix). I am so proud to say that he holds his own with this active bunch and when it comes to chasing a rabbit, he is the one that leads the pack! Last year Cooper and I opened a gift boutique in Louisville, Colorado called Gifts at Cooperís Corner. He and I go to work, together, five days a week. Cooper has become an accomplished greeter and is the best marketing director you could ever hope for. The first customer of the day gets the most enthusiastic welcome until, close to 5:00, he may barely raise an eyebrow when a customer walks through the door. He is therapy for those who have lost a dog and just feel the need for some serious four legged affection. He is such a sweet and sensitive boy. People are so surprised when I tell them that he is just four years old. A pet psychic told me that Cooper is an old soul in a young body. I guess that explains it. I just wanted you to know that I feel so fortunate that Cooper is in my life. Thank you for allowing me to be his caretaker. Regards, Julie Williams
---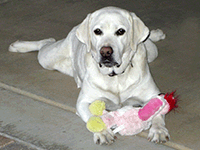 Dr. Joe, I thought I might send you a picture of Tono on his 9th birthday this past Thursday. He is doing just fine having moved from Virginia Beach to Tucson. You might remember that we purchased Tono after getting to know Uno who lived across the street from us. I am also attaching a picture of Kuma who is a year younger. Interestingly friends of ours sent us a card with Kuma's picture on it that they had purchased from a selection of cards from you. They had no idea it was actually Kuma. Both dogs are in good health and are the very best friends anyone could possibly have. When I come back in my next life I want to be a Bainbridge Lab.
---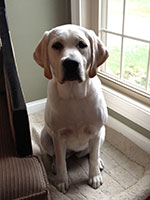 Hi Dr Joe, I just wanted to drop you a note to tell you how wonderful it is to have my big girl zelly in my life. she is around 1.5 years old, still very much a puppy, a big clumsy lovable one! when we met i was leery but excited of having my first dog. zelly has turned out to be my right hand as i had hoped. i stay home and she is with me constantly. we go for walks every day, even when i dont feel like it, she prompts me with those soulful brown eyes and her loving demeanor. she goes in the car with me loads of places and have recently been on her 3rd trip to wisconsin with me. we traveled over 2000 miles together last week alone! everywhere we go people tell me how beautiful she is and what an excellent natured dog she is. although she is only 1.5 years old i already know my life will be utterly lost without her presence near me and that beautiful face looking up at me. i've attached a few pics of zelly for youthank you, blythe and family (KY)
---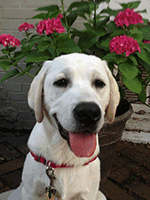 Charlie is doing great! I've attached a couple of photos. He is about 60 lbs but still a goofy puppy of course. His training is going very well. He is just such a Good Dog! He continues to be very gentle with young puppies and children although a totally rambunctious boy on the playground with bigger dogs. He has a lot of fun! Thank you for a great dog! We just love him and he continues to be a neighborhood celebrity. Cathleen & family (VA)
---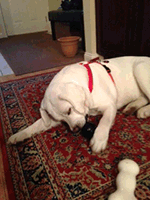 Lily is doing fine, she is such a love of a dog, she follows me everywhere. She has been a Godsend to me since I lost my wife and Molly this last year. Thanks a million Joe Bill and LILY (NH)
---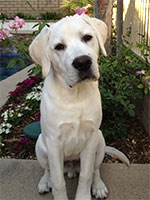 Hello Dr. Demichael, It's been a while....So I wanted to reach out to give you an update on "Oliver". He is truly the most AMAZING dog Ever! I wanted to send you the attached picture of him sitting in my office. It's been a little tricky printing documents as of late...as he's chosen my printer as his favorite chair in the house. To be expected...the first month was a little rough with Oliver finding his way in his new environment....but it's almost like a light bulb went off in his head....that he settled in and has become the calmest, friendliest, smartest puppy ever! He actually took his first swim in our pool yesterday...he jumped right in and we could hardly keep him out of the pool the rest of the day. Also..the last "Razor Tooth" came out yesterday as well.....meaning no more blood on my hands while we play. :-) It's amazing how thing's work out....especially after everything we went through in acquiring a Puppy. In my long Sales Career, I had always been taught to make 1 last call before going home each night to end the day....So the day that I decided to walk in to Dr. Siever's Office late on a friday paid off more than any bonus check could. When I looked up on the wall and saw his picture of a "White Lab from Bainbridge"...I was frozen with envy. The smartest thing I ever did was wait around after his clinic to ask him where and how he got such an amazing looking Dog...... Thanks again for "Oliver"and for all your assistance and knowledge that goes along with one of the most important decision's a family could ever make! Eric & family of OLIVER (CA).
---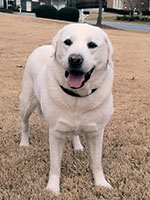 Dr. D, This is your Superstar Maverick from 11 years ago. My fiancé at the time, now my beautiful wife of 10 years, Cindy and I traveled to Lexington to get our boy Maverick from you. He has been out heart and soul. We pray he can stay with us and fetch his Frisbees and balls like a champ for a long time. Just thinking of you and hope you are well." Bill & Cindy & Maverick (GA)
---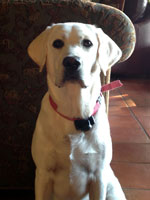 Dr. Demichael; First of all, I want to thank you for breeding such incredible labs. Winston is like no other dog I've ever known. Besides being an absolutely beautiful lab, his personality unlike any I've ever seen. He is the ultimate family dog. He is so calm and laid back(especially for a lab) and yet when itís time to play, he can't get enough. He would swim all day in our lake if I let him. I never thought I could replace the lab I lost 2 years ago, but the entire family agrees, Winston is in a class by himself. Thanks, Chad
---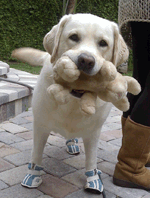 Hi Joe, As you know Ben lost his right rear leg to synovial cell cancer in January. The the surgery was traumatic, he is pain free and doing very well! He loves his boots which help him from sliding on the wood floors and he flies like the wind! He is by far one of the finest and most loved of all my Labradors. Thank you for such an amazingly loving, gentle, kind dog. He is simply the best! Sherrie
---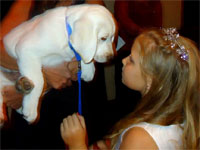 We had a great time last night at the Little Smiles 2012 Ball in West Palm Beach. The puppy that you donated for our cause brought in $5,000. There was a bidding war between a professional tennis player and 2 others. The little girl in the picture below was one of our stars. She has a rare form of cancer and has been in and out of the hospital for the past year. She is a very quiet girl and after her first round of cancer, didn't speak for several months. She is still in treatment but is beginning to show more strength. She was absolutely in love with the puppy and followed him around all night long. She was so distraught when we were auctioning him. It was heart wrenching because she wanted him so badly. Bill and I asked her mother if they would be able to take care of a puppy if we were able to get another one for her soon. We were prepared to call you today and get on the wait list and buy her one. But............ the winning bidder surprised everyone at the ball and after winning the puppy...... walked over to Caroline and gave her the puppy. It was his intention all along to do whatever he could to ensure this beautiful little girl went home with the puppy. I spoke with Caroline's family and they are very excited about their new addition and feel this will help Caroline tremendously. Thank you for helping make a difference in Caroline's life and for the money that was raised for Little Smiles. Creating Little Smiles For Children
In Local Hospitals, Hospices, And Shelters. (www.LittleSmiles.org)
---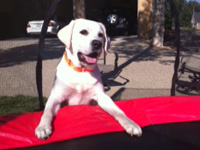 The trampoline is his favorite place with my daughter Kate. I want to tell you he is the BEST lab I have ever had. Jake was my fourth lab since college and I can't begin to tell you how much I love him . He is spoiled rotten and I travel a ton and he has never been to the kennel. Everyone in my neighborhood wants to keep him. He is quite the social director. Kate my 7 year old loves him so much too. Thanks again. Can't wait to see you this fall. Josh (KY)
---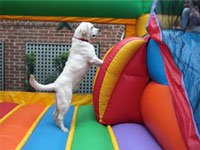 Augie did prove that dogs like bouncers too. He even ended up going up the inflata-stairs and down the slide with his girls. He loved romping around in the bouncy. A great, great, great dog! Today in the pouring rain we took him to the park for frisbee. He loved rolling in the mud for crazy airborne catches and puddle landings. Thank you again for the best dog in the world!
---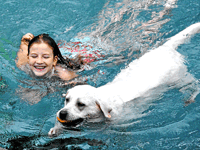 We are having such a great summer with our beloved dogs Millie and Pards. After two years, Millie has finally built up the courage to swim in our pool. Pards is jealous of all the attention Millie gets in the pool which is urging her to swim as well. Pards is the most affectionate dog ever!! She loves to get praise from all of us, especially my mom. She likes to curl up next to my mom on my parents bed every night. Many people ask us about our beautiful, sweet dogs and quite a few families now have the same breed as us. I couldn't ask for better dogs. Thank you for all the happiness that we've had with them and to come. Sincerely, Calvin (CT)
---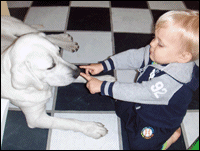 OK, so, I used to think people who were all goo-goo about their dogs were just plain goofy..actually thats the polite word I use.. what I really thought was that they were stupid!. I didn't get it.
Then I got Lucy.
As a devout "Cat Person" I never really got into dogs. It's not that I disliked them. It just never dawned on me to get one. Then, about a year ago I met a man at one of my shows named Dr. Joe Demichael. Joe quickly became one of my all time favorite people in this world! As a Veterinarian he has spent his life caring for those spectacular race horses in Kentucky. As a hobby and passion, he breeds and raises these gorgeous dogs. He started photographing them and an art photography business followed. Well one look and I knew I had to have one. After much pleading and whining, he agreed to allow me to adopt one of his special pups. (Its not easy to get him to agree to sell you one. You have to convince him you're going to be a good family for his precious animal. ) As he handed the dog over to my husband , literally with a tear in his eye, he said something like "Your lives will never be the same.. she will be the greatest dog you will ever own"
That was a year ago and today Al and I finally understand. Lucy, a pure white, Labrador Retriever now controls our world. I find myself coming home from parties and trips early because I miss her. I spend money on fancy treats and cute collars and all sorts of doggie gee-gaw. (Never mind the fact that her favorite chew thingy is an old plastic toy wheel barrow I bought for my grandson who was not the least bit impressed) Al plans his whole day around taking her for her walks and obedience training, swimming with her in the pool and cuddling with her during their "floor time" every night.
We can't imagine our lives without her. Never was a dog more loved. I finally get it. Now, I too, am dog stupid. Al & Suzy (FL)
---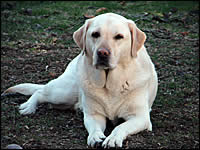 Hello Dr. Joe, Today our beautiful daughter Charlie turned 8 years young. She is doing wonderful and aging with such sweetness. Charlie is everyone's best friend and a superior pet true to the nature of Bainbridge and her extended family. Cindy and I can still remember the day she arrived in June of 2000 from Kentucky with her velvet soft long ears and curious belly rolls on our thick lawn. We both took turns taking vacation from work to make sure she was comfortable and safe in her new home. In 2002 when we got married Charlie was our ring bearer and she was so proud to walk down the isle with the rings. The love she gives us is so enormous and kind we believe she is a gift from God. Our whole family thanks you and all the Bainbridge Labradors for making our house a home with the best girl in our world. With warm regards, Stan and Cindy and Charlie (IL)
---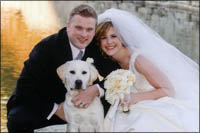 Dear Dr. Demichael, I just wanted to drop you a note to let you know how much Winston means to our family. He is absolutely the most precious dog we could possibly have! He has grown into quite an adolescent as a 9-month-old puppy, and his cute personality makes us laugh every day. He's so friendly and loving, and we feel so lucky to have him. In January, Winston and I are starting Domesti-PUPS training with the Humane Society. Hopefully by June he'll be a certified therapy dog! I plan to have him at my school as our Edu-PUP, and Jeremy and I plan to continue the visits with the elderly at nursing homes that will be part of his training. I've attached a picture of us with Winston on our wedding day so you can see how much he's grown. Thank you for giving us the gift of Winston! Beth in NE
---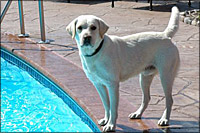 We purchased Chaos from you December 2002. I was just visiting your site and thought you may want to see a picture of Chaos. I have to say, Chaos is the best dog I have ever owned. We know people you are not dog fans and they fall in love with this guy. He is just a sweet boy who gets more love from our 4 & 5 year old girls than he can handle. He has been a pure pleasure for our family and he is the only dog allowed in our friends beautiful cabin. He spends most of his summers swimming in our pool and and running with my wife. Thanks for such a great boy. Kurt in Minnesota
---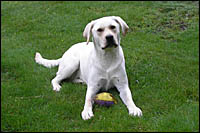 Joe, It was a year ago right around this time that we loaded up the car to drive from Connecticut to Lexington to pick out our new dog, Owen. The trip was long but exciting and meeting you and seeing your offspring's was something I will never forget. How do you pick out a puppy from the group we had to select from, they were all gorgeous. We did the best we could and over the next few months, you are never sure if the decision was correct. A year later, we have a perfect dog and we love him way too much. He has grown into a beautiful young boy and has a personality like no other dog I have ever met. The affection can get out of hand at times. His daily walks have to be started shortly after he has his breakfast or he will let you know how disappointed he is. He meets the girls at the bus everyday, when he hears the bus coming up the road he gets so excited. He loves the pool but needs to be assisted around because he thinks he is still a little puppy, not an 80 pound dog. He reminds me so much of my last dog that sometimes it is spooky and I never thought I would hit the jackpot twice. I cannot believe we found you and thank you for giving Owen to us. Mike in CT
---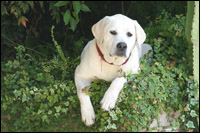 I have always loved labs (and horses) but Spirit is the most beautiful dog I have even seen and what a gift she is for me. Her name fits her and she is a playful, loving, mellow, gentle, tender girl, full of curiosity and intelligence. I have never been around a lab like her and her personality is both delightful and funny although she hasn't a clue how hilarious she can be. Dr. Joe thank you for breeding these dogs and keeping Bainbridge alive for all of us to savor and relish.
Joe, I can't read that story of Bridge so beautifully written and from your heart and not cry as I know how much I love animals who have touched my life in depth. They have much to teach us. All the best and thank you for all your help. I will never hesitate to call. Lucy in CA
---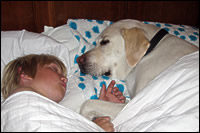 6 years ago you informed me our new puppy would be arriving into Phoenix on Delta Airlines. I told my son we were driving to the airport to pick up his new best friend, I did not mention it was a puppy. When we got there and saw this beautiful white pup it was me who became overwhelmed with happiness and I knew this little guy would change our family forever. We named him Sonny and he very quickly became everyone's best friend. We have four kids and he takes turns putting each one to bed. He never says no to them and we all love him unconditionally. We can't thank you enough!! - Shelley in Phoenix
---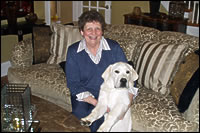 Just wanted to tell you about DERBY. He is friendly, lovable, calm and just beautiful. He follows me all over the house like my shadow. He is so sweet and so good and when I put him in his crate at night I give him a treat and he sleeps quietly until the morning. My son Michael insisted on me getting a dog but I hesitated since the great loss of my husband. After much thought I agreed with Michael and now I'm so happy I did! DERBY brings me great comfort, makes me laugh and it's such a nice feeling coming home from work to a happy face that greets you instead of an empty house. He is such a joy to have with me and I love him dearly. Evelyn, NY
---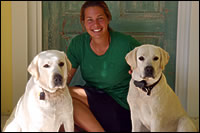 "Dear Dr. Demichael, My uncle and I wanted to send you a picture of our beautiful boys. (Romeo) on my right and (Dash) on my left. Once again, we can't thank-you enough! We get so much joy out of these guys". Kane and Gigi in Florida
---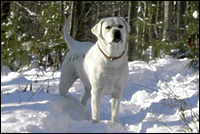 "Here are a couple photos of Riley and her sister Cane. they love hiking and rolling around in the snow. they are beautiful companions and friends. They love riding in the truck with me and never fail to get stares and comments from others who see these 2 white dogs watching the road pass by. Cane has just recently come to live with us and has had no trouble integrating into the family. They are great together and while it is still difficult to say goodbye to those dark eyes in the morning, knowing they have each other makes it a little better. Thank you again and keep spreading this special joy to the world! Don, CT"
---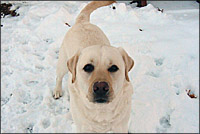 "I cannot tell you how many times I get stopped and asked where I got such a beautiful dog. Of course, I tell them all about Kentucky and what a wonderful time I had with all those beautiful puppies. I am pretty sure I picked the best of the lot!!! He is 3 years old now and has turned into my best friend. He has the most wonderful disposition and is just so smart and loving. It doesn't matter what kind of a day I've had, when I walk in the door to Tucker, he is all that matters. We would be honored to be included in the new website. I have already made several greeting card purchases. They are wonderful". Lori from New York
---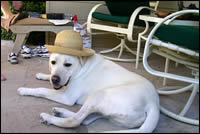 "This is a great example of how much George means to us and how much of a part of the family he is. George is the best. He has the most gentle and fun loving personality. We have two boys under the age of 5 and George is their best friend. They climb all over him, pass their peas to him when we are not looking and like to dress George up as the picture shows. We are so grateful to have George as a part of our lives. We could not imagine life without him. George also thinks he is a lap dog, even though he is close to 90 pounds, he loves to sit in my lap. We usually start our day having our youngest son Conner on our laps with his milk, when Conner gets off our lap George thinks it is his turn. Thank you so much for George". Don from San Francisco, CA
---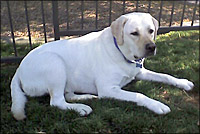 "Hey Dr. Joe, Three years ago, I flew to Lexington, KY from Orlando, FL and met you at the airport. You handed me a twelve pound puppy that looked a bit like a polar bear cub ... little did I know the impact the fuzzy little guy would have on my life. Since that day, Cabo and I have been inseparable. Cabo and I live in Phoenix, AZ now and he's all grown up at just over one hundred pounds. Whether it's a swim in the pool, chasing a ball, chewing a bone, playing with other dogs, or taking a well deserved nap ... Cabo knows how to live life. We often say that Cabo doesn't have a bad bone in his body and that he has a heart of gold. Nothing could be more true - he brings a smile to people's faces and makes everyone laugh. He's the best companion a person could ask for and I cherish all the time I spend with him. He's a constant reminder that there is goodness in the world and I've learned a lot from him. Thanks a million for my buddy and keep up the great work". Take care, Sean & Cabo (Bainbridge's Cabo Wabo) Phoenix, AZ
---
"As you can see ---- we have an absolutely gorgeous White Lab named Molly! We bought her from you three years ago this coming March. That has been the best thing we've ever done, we dearly love her and we have 3 grown children with spouses and 6 grandchildren who range in age from 18 months to 17 years old who also fell in love with Molly from the first day they saw her. Molly is a very sweet, happy,loving, healthy girl!! We have a home in Marblehead, MA and a home in Wolfeboro N.H. and she has the run of the property in New Hampshire. We had a company come to the Wolfeboro property almost as soon as we received Molly and they installed an electric fence, which is buried under the ground on the entire circumference of our property. She is a VERY smart dog --- it took her only one mistake when she was too close to the underground wire and from then on she doesn't need her collar, however, when she is in the yard by herself, we keep a very close eye on her. Bill is going you phone you someday soon regarding our purchase of another Bainbridge Lab so that Molly with have a companion". - Bill and Merri from Marblehead, Ma
---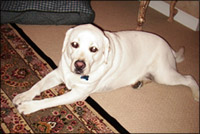 "We purchased Frisco from you 2 years ago and he is absolutely wonderful. He is astonishingly intelligent, faithful and loving. Over the 2 years that we have had Frisco, he has inspired 4 friends to acquire "white labs" from other sources and all have been very disappointed to discover that not all labs are equal. Your recent Christmas card inspired me to inquire if you are still breeding these amazing animals for adoption. Frisco is great but I find that he is happiest when he has a canine companion and it saddens us to see him upset when we are forced to leave him at home alone. If there are puppies available or becoming available let me know the timing and I will discuss it with my wife. I am including a recent photo for your collection. Happy Holidays and a healthy New year to you and yours. Thanks for providing us with such an amazing friend". - from Orlando FL
---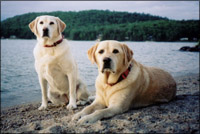 "Hello Joseph, It has been several years since we have been in contact. I was browsing your revised (and very attractive) website, saw the photo of B & B still included and thought you would be happy to know that we are all doing well. We still live in Toronto and while the dogs are a bit arthritic, they remain very healthy. I have a fold-up ramp to help them get in and out of the van. They are quite active, but are slowing down quite a bit. Bella will be 10 years old next week. We find it hard to believe that so many years have passed since you sent us those beautiful pups, via Delta air cargo. They are incredible friends and absolutely charming. Even non dog lovers are impressed with these guys. I have attached a shot taken two summers ago. Please feel free to use it if you like it. Best wishes for a wonderful 2006". - Peter and Patti from Toronto, ON
---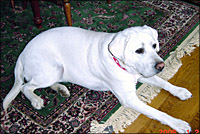 "Joe, It has been exactly one year this week that Tono arrived at our home. You cannot possibly imagine how much joy and happiness he has brought to our family. We love him more than any other dog we have ever had. We cannot believe his temperment. He is so gentle with not only young children, but also with the very elderly. Our grandchildren love him as do the folks at the Assisted Living facility where my Mother resides. What is so hard to believe is how easy he was to train. Believe it or not, he has never chewed on a shoe or created any damage to our furniture or other precious belongings. When we go for a walk, we do not have to worry about a leash as he stays close to us and never wanders. He plays well with other dogs and everyone who comes in contact with him marvels at how well behaved he is and his gentle disposition. Sorry to boast so much, but we felt on this first anniversary that you would be interested in just how much Tono has meant to us". John & Takeyo from Virginia Beach, VA
---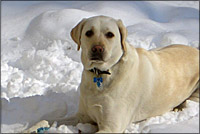 "Joe I don't know if I sent you these of Lucy I saw your new website it looks great. I was hoping you would put Lucy on it anyway she is great I couldn't have gotten a better dog. Thanks". Brian from New York.