The Story of Bainbridge
March 28, 1987 - October 30, 2001
My dear friend rests today in comfort and in peace. Though she had obviously been feeling the effects of her age (nearly 15 years by our standards, over 100 by canine measure), she was always still anxious and willing to carry that beloved tennis ball firmly in her mouth and play solely  with me while her eleven descendants would carry on their much more lively game of fetch with me in their field as part of our daily ritual.  Only two days earlier I sensed a marked change in her demeanor. She had noticeably weakened. There was a distant look to her eye and her seemingly endless desire to fetch, albeit at her own slower speed, had all but abandoned her. Though I kept it to myself, I was deeply concerned. I silently hoped that she would rebound and hold on at least for a couple more weeks until I returned from a trip. But late at night on the eve of my departure, her condition had drastically worsened. She could barely stand on her own without help. As I laid her on her bed in a semi-comatose state I was very confident that she was not experiencing any pain. I called her eleven descendants and family members, spanning four generations, to her side one at a time. They knew through my tears something was very, very wrong. Together we thanked her for all that she had meant and given to us.
Before my plane was to leave the next morning, Bainbridge had departed us. It was as if she knew she could not make it until my return and wanted me at her side, with her family nearby, as we said goodbye together. I will never be convinced, not with all of my medical training and experience, that there was any other reason why she chose that time to go.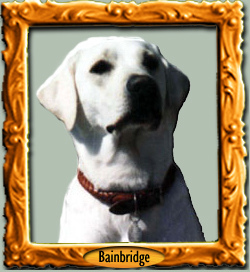 I moved to Lexington from Seattle in the early 80's, to accept a position as director of veterinary services for Nelson Bunker Hunt who, at the time, owned the largest Thoroughbred horse operation in the world. His equine holdings spanned several states and numerous foreign countries. His storied racehorses had been so prominent that he had been handed trophies by none less than the Queen of England. It was through this association that I was introduced to a close friend of Mr. Hunt's named Hugh, a prominent British horseman. When Hugh would come to Kentucky to purchase horses at the select sales, Mr. Hunt asked that I give him any assistance that he needed. Over the months and through several visits Hugh and I became quite friendly. I learned that not only did he breed horses, but Labradors as well. At the time, we had only one dog, a dark yellow Lab named Winslow. Through random conversation, I once asked Hugh that should he ever come by a "very light" yellow Labrador to please let me know, as I would be interested in purchasing one. For well over a year he and I communicated at length about his horses in England. My advice on certain pediatric conditions would usually be the focus of our conversations. Then one day, at no prompting from me, Hugh asked if I were still interested in a light coated Labrador puppy. Of course, was my response! I was informed that he had picked a female from one of his litters that he wanted to give to me as a measure of thanks for my assistance with his horses. He went on to tell me that his dog was from the Queen's kennels and that this puppy was indeed "royally" bred. (Should there be any doubts, I was told that his son Edward was a participant in Princess Diana and Prince Charles' wedding.) Arrangements were made for a flight from London to Lexington. When the pup was eight weeks of age I was phoned of her arrival time and went to meet her at Lexington's Blue Grass Field. Since I had not seen any photos of the pup prior to her arrival, I was not prepared for what was to come.
Having graduated form the University of Minnesota College of Veterinary Medicine, I was exposed to many, many Labrador Retrievers as the state is well stocked with the breed due to their hearty nature and proficient hunting abilities. But I had never seen a Labrador quite like the one waiting for pick-up at the airport. When I was directed to her crate, my lips touched my ears simultaneously as my jaw dropped to my chest. I couldn't believe what I was seeing. She looked like a polar bear cub! Not merely light, she was white.with a black nose..and deep dark eyes. I could not have dreamed of a dog such as this. I didn't know such a Labrador existed and I certainly didn't have the slightest concept of what she would come to mean in my life.
So voila! That is how this dog we called 'Bridge came to me. She was a gift. A gift of love. Since I have chosen to name all of the dogs I raise and keep after places in the greater Seattle area, she was given the name Bainbridge. Those with a knowledge of the Northwest will understand why. And though she is no longer with us physically, her incredible devotion, her unwavering loyalty, the tireless desire to retrieve and her never ending need to be close to my side is now carried on through the eleven descendants of Bainbridge that are still with me  - Mercer, Alki, Samammish, Wenatcheee, Snoqualmie, Bellevue, Issaquah, Belle of Rainier, Mercer-Magoo, Cascade and Princess Grace - and through so many of her extended family.
I am so fortunate to have been blessed by the Lord with the gift of love. As this child has for his mother, a husband has for his wife and this man has for his dog. Though I fight through the taste of salt on my lip, I take such incredible comfort in knowing that throughout these United States and the world beyond, the spirit of Bainbridge, and the joy that she has brought to so many families, will live on...bringing a giggle to the lips of a small child in Connecticut, a smile to the face of a woman in California and the deepest gratitude from the heart of this man in Kentucky.
Rest assured, my beloved friend, that the fate of your descendants will always be safest in my hands.

Thank you, Bridge.