Memorials Of Our Labradors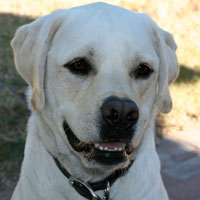 A Buddy Story: Our 100 pound, male lab died in surgery on Tuesday night. He had a tumor in his lungs we all believed was operable. We did a lot of tests to confirm that it was. But when the surgeon went in, the area was overwhelmed by tumor. The surgeon was one of the best I've met and fought for hours trying to save Buddy. Sometimes things don't go the way you hope.
I'm up early, trying to write, to make sense of what happened, so quickly, so unexpectedly. The morning sounds different without Buddy in the house. I miss the jingle of his collar and his eager greeting. "Hey, it's been all night since I've seen you. God, I love you!" he'd say when he found me in my chair working and then he'd dip his big, block head, nuzzle into my leg, playful and affectionate.
Buddy was the most glorious spirit I have ever met. He had a triumphant enthusiasm that bolted light and love everywhere he went. He lived with great heart and courage. He bounded through waves to retrieve balls. He climbed mountains, swam in rivers. He was beautiful in all aspects. In spirit. Physically. Emotionally. Playfully. In his kindness. He was the king of kings, true royalty.
This past summer we decided to plan our family trip around Buddy. We drove to Arizona with him in the minivan and spent a week at my father's ranch where Buddy ran with the boys in the meadow and swam in the creek. Then we drove to three national parks. We found areas where he was allowed to play. He got to swim in the Virgin River with all of us at Zion. He figured out how to run upstream and then float down to us. We all laughed watching him learn how to ride the current of the river.
My daughter left for college this fall. In August, as our family trip was ending, we spent the last night in a Best Western on the outskirts of the Sierras. We were all in one room. Two queen beds, my husband, our three kids and Buddy. I woke early and felt that all was right in the world. All that I loved most dearly was there with me sleeping—a mother's sense of peace and heaven.
Three years ago we moved to California, I had a tough time with the move. That's an understatement. Buddy had never been a leash dog as he had lived on a large piece of property in Arizona. But Buddy quickly learned to love his walks and I learned to love walking him. He'd smell the flowers and pee on them; I'd see the flowers and think they were pretty. Noticing beauty helps any problem, so does having a 100 pound lab pull you forward into life. His spirit literally walked me mile after mile back to happiness.
Because I work at home, it's as if he and I danced together all day. I'd talk to him and he spoke English. I'd tell him I was going to write for a bit and that he could go nap and then we'd have lunch together. Sometimes he'd doze beside me while I worked at my desk. Other times, he'd go up to my son's room, sleep on his bed until he heard me clinking away in the kitchen. We ate lunch sitting on the steps together and I always gave him half. Often in the afternoon, we'd walk out together to meet the school bus. So the days went.
The day after Buddy died, I let the boys skip school. They slept in. When Scott and William woke, I made pancakes and we told Buddy stories. They laughed recalling the time they made a harness so Buddy could pull them down the street on a skateboard at full speed. They remembered when they were little and dressed Buddy up in costumes for different skits their sister had created. They remembered the Christmas where he ate all of Santa's cookies. They remembered the fourth of July party where he'd eaten too many hotdogs and watermelon rinds and got sick under the picnic table where everyone was sitting. Scott and William both told me that they felt lost, didn't know what to do with being so sad because whenever they were this sad, they went to Buddy.
"I feel lucky he was our dog for nine years. I wanted more. But I'm grateful we got what we got. We are really, really lucky to have him as our dog," William said. "He's the greatest dog in the world," William added and Scott agreed.
"The thing with dogs," Scott said to me, "Is that when you get one, you know it's going to hurt, the worst kind of hurt, when they die, because you love them that much, more than anything, but Mom," he said, "It's worth it. It's worth the hurt."
Two days after Buddy died I met with my minister. I told him about Buddy. I told him that Buddy had attributes that I lacked, that being with Buddy made me feel complete. Buddy lived without fear, I explained. He bounded into the world with pure enthusiasm. I tend to want to dip my toe in the water, again and again, checking and rechecking if it's safe to dive. I've been known to wait so long that I've missed the window to swim. Buddy always dove in, often when I was telling him no— mostly because I didn't want to bathe a wet, muddy dog.
"I don't want to let him go," I told my minister.
"Don't," he said. "Embrace what he gave you. Embrace him."
I am trying my hardest to take his spirit into my heart, all one hundred pounds of it. While he waited for me to attach his leash, he would spin in circles around our entry hall. When he and I were ready to walk, Buddy would pranced out the door smelling the day, taking it in, "Ahhhh, life! I love life!" That's what he'd say.
I want to bolt out the front door with joy and zest, but I'm struggling. I want to feel that pull on my left hand, the excitement in the leash for what the day has ahead, taking me out into the world.
I try to recall other things Buddy said often so that I can understand the weight of who he was— top of the list was, "I love you sooooo much!"
He also said, "I love to eat! I love food!"
He also said, "That smells soooo good, will you pleeeeeeaaaasee give me a little taste?"
He also said, "Ball? Ball? Ball?" and "Walk? Walk? Walk?"
He also said, "I know you're sad. I'm here. I love you."
He also said, "Thank you" for food, for walks, for tummy scratches.
The more I take in of who Buddy was, the more I wonder. What if we're not supposed to be stoic individuals? What if we got that all wrong? What if we're supposed to let ourselves be profoundly touched, affected, changed by those we love and admire—humans and other living creatures? Maybe this is how we progress as a people, through open admiration and a courage to love and keep loving, even though it hurts when there is loss, great loss—because it's worth it.
Dan, my husband, came into my office. "Hey, good morning!" he said to me with outstretched arms. He's usually not a morning person by any definition. I noticed in him a new warmth, a new depth of gratitude for just seeing me.
"Is that my Buddy greeting?" I asked sitting alone at my desk.
"Yes," he said walking towards me. "I'm working on incorporating his spirit into my life. He lived well."
I smiled and let Dan's arms embrace me.
For a moment, I could see how a hundred pounds of sadness could turn into a hundred reasons to live a little differently because a lab named Buddy showed us how.